A-HI Art Page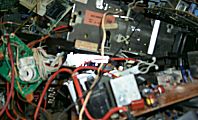 A-HI is proud to bring you technology as art.
The picture shown here is just a pile of junk, but like a jungle, it hides some wonderful things.
The internal disk and electronics of a typical hard drive, when properly prepared and mounted, is a thing of beauty. These make great conversation pieces for technology company lobbies and meeting rooms, and great gifts for the techno-types in your life!
Computer art looking for a good home... ($49.95)
Martha Stewart... eat your heart out!